Just a Darn Good Dentist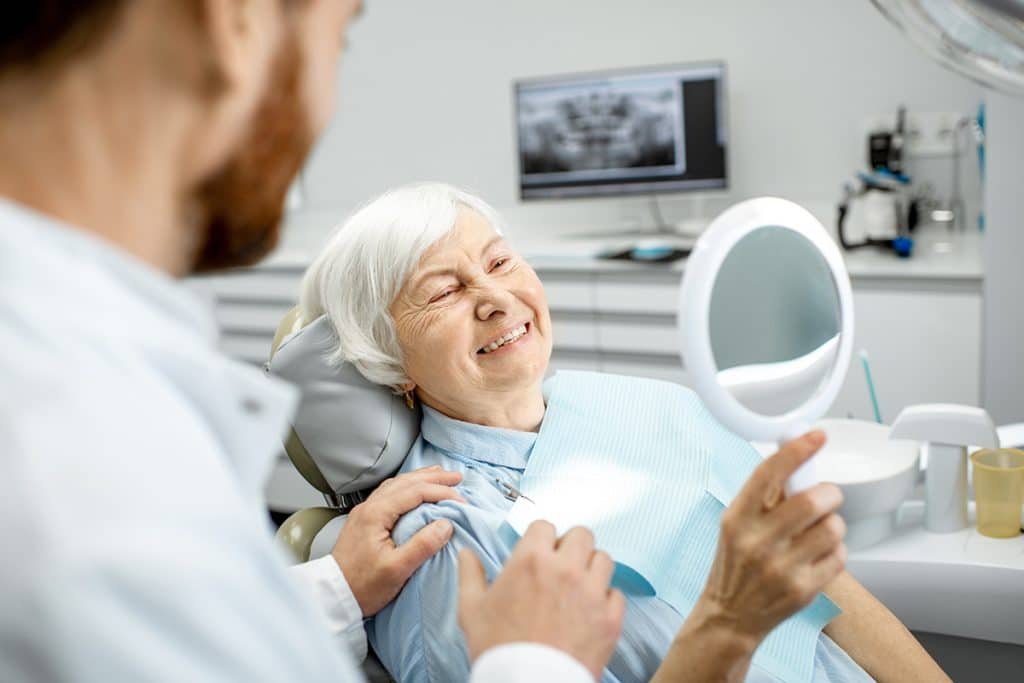 At Family and Implant Dentistry in Lincoln, NE, we provide whole-mouth health care to patients of all ages. It is our honor and privilege to provide you and your family with complete dental care, all under one roof. We begin by providing crucial screenings, cleanings, and preventative treatments beginning with your child's first dental appointment. We continue treatment for adolescents and adults, offering all treatments necessary to restore your teeth and gums to optimal health. We aim to provide all of the care you and your family need in a comfortable, technologically advanced dental office.
Family, Cosmetic, and Restorative Dentist in Lincoln, NE
As a family dentist, we love getting to know and treat all of the members of your family. Services for young patients include oral screenings, dental sealants, fluoride treatments, and a whole lot of education. Establishing good oral health habits at a young age is foundational to maintaining lifelong healthy teeth and gums.
As patients age, wear and tear can and does lead to problems with the teeth, but we can help. We provide complete restorative care for teens and adults with mild to moderate tooth decay. From tooth-colored fillings to porcelain crowns that preserve natural teeth and root canals to treat infections within a tooth, we treat all forms of tooth infection and decay in our practice.
Teens and adults with good oral health who wish to spruce up their smile, are also offered a variety of cosmetic dental treatments. Professional teeth whitening, dental bonding, tooth contouring, and porcelain veneers can help you achieve a megawatt smile, with non-invasive, painless treatments.
Dental Implant Professional in Lincoln, NE
When problems escalate to lost teeth, Family and Implant Dentistry is also here to help you restore your mouth to good health. As a dental implant professional, Dr. Derek Hoffman is a member of the American Academy of Implant Dentistry, the Misch International Implant Institute, and the International Congress of Oral Implantologists (ICOI). At Family & Implant Dentistry, Dr. Hoffman is supported by a team of skilled, experienced, and gentle dental hygienists and technicians, who can replace a single missing tooth, multiple missing teeth, or even an entire upper or lower arch of teeth with dental implants.
How Are We Different from Other Dentists?
Dr. Hoffman and his team aim to raise the bar of excellence in whole-mouth health. As the name of our practice implies, we provide complete family dental care, utilizing all of the latest dental technologies to provide comfortable care in a friendly, welcoming setting.
Our team prioritizes patient comfort, convenience, and outstanding results. We offer affordable treatments, online bill pay, and easy online registration forms. If you need to finance your dental treatment, including cosmetic treatments and dental restorations, we are happy to accept CareCredit Financing.
We also understand that going to the dentist causes some patients to feel fearful or anxious. Our team never wants a patient to avoid receiving essential dental care. That's why we offer oral sedation upon request. If you're fearful of seeing the dentist, just talk with our team and we can help you get the care you need with less fear, stress, or anxiety.
Schedule a Dental Cleaning, Consultation, or Treatment in Lincoln Today
If you're looking for a new dentist, we encourage you to schedule an appointment for yourself or your child today. We guarantee we will welcome you to our practice, by treating you like a member of our family.  To schedule an appointment, call 402-486-0825, or send us a message today. 
Recent Posts
Contact Us
Family and Implant Dentistry
827 South 48th Street
Lincoln, NE 68510
Monday | 8am - 5pm
Tuesday | 8am - 5pm
Wednesday | 8am - 5pm
Thursday | 8am - 5pm
Friday | Emergencies Only
Saturday | Closed
Sunday | Closed